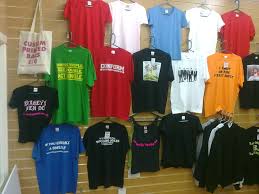 We are Inky's, a t-shirt printing shop based in the centre of Worcester, UK. We supply and print all kinds of garments (t-shirts, polo shirts, hoodies, hi-vis workwear and lots more besides) with any text, graphics, images or photos – for any purpose. Whether you need just a one-off t-shirt as a joke or a gift for somebody, or a larger quantity for a stag or hen party – we can help!
Although Inky's is a new shop, we've been in the t-shirt printing business for many years – so we have the experience and skills to make sure we always do a great job, on time. You can rely on us to supply your business with top quality branded work wear printed with your logo, or if you need a job lot of t-shirts in a hurry for an event or promotion – call on us and put us to work for you!
No setup fees on t-shirt printing in Worcester
You can order as few or as many custom printed garments as you like and we won't charge setup or artwork fees on text-only print jobs or basic graphics supplied by yourselves. Our prices are very competitive and our turnaround times are excellent – we can usually complete your order within 1-3 business days.
Cheap t-shirt printing in Worcester
If you're looking to get the lowest price possible for your t-shirt printing needs, we recommend opting for a single-colour text-only print, with a print on the front of the t-shirt only. White t-shirts (rather than black or colours) can also work out cheaper in some circumstances. Full colour photo and graphics prints are charged slightly more, as well as extra prints such as back prints and sleeve prints – so if you need to convey a simple message on a t-shirt, go for the most basic options to get the most economical price.
How to find us
We are located in The Gallery (formerly The Market Hall), The Shambles, Worcester (near the High Street). The Gallery is a recently-re-vamped indoor shopping mall where you will find a good selection small independent shops specialising in everything from computer repairs to cheeses, fancy dress, sweet shop, and an excellent meat-free cafe.
How to order or make an enquiry
Simply use the Contact Us page to let us know your requirements, and we'll get back to you as soon as possible.