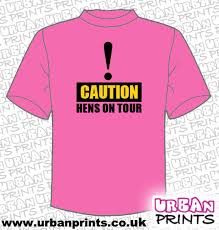 If you're looking for somewhere to get some fabulous custom printed t-shirts for a hen party, then look no further than Inky's. We're located in the very centre of town in The Gallery (on The Shambles), and our staff have years of experience in producing stunning looking tops for you to wear on your big night out.
We can print any text in any font, in a huge range of colours (including vibrant neon colours!), and even photographs onto t-shirts, vest tops, and most other garments. You can even bring in your own tops to be printed (you'll only have to pay for the printing if you do).
We can create a stunning unique design just for you, and we're totally flexible – you can say whatever you like – with prints on the front, back and sleeves. There really is no limit! We even offer discounts on larger orders.
To Get Started
Decide what you'd like to have printed on the t-shirts. If you're not completely sure, just give us a vague idea and we'll come up with a design for you.
Make a list of who's coming on the big night, their nicknames, and what size t-shirt they need.
Once you know how many t-shirts you need, simply contact us detailing your requirements. We'll then get back to you with a competitive price quote.
Relax knowing your t-shirt order is in the safe hands of the best t-shirt printers in Worcester!