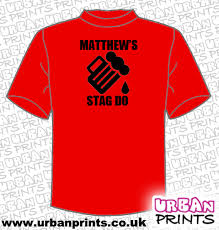 Creating Personalised Stag Night T-Shirts is one of our specialities – our staff have been doing it for years so we've gained loads of experience and we always know how to come up with unique designs that fit the bill, whatever the theme for your stag night. We combine an easy-to-use service with top quality t-shirt designs and a fast turnaround to give you the ultimate stag night t-shirt service in Worcester.
Stag Night T-Shirts Worcester
We supply a HUGE range of t-shirt colours. Basically any colour you can think of, we can do (however we are struggling to find a supplier of neon t-shirts). Sizes go up to XXL on most colours, and XXXL on Black, White and Navy t-shirts. We also do polo shirts in larger sizes (a generous XXXXXL). So if you've got a particular theme in mind (for example if you're all fans of the same football team) we can get the t-shirt colours to match pretty closely. This also applies to print colours. As well as normal vinyl print colours we also stock a selection of fluorescent colours – these look really stunning and will make your stag party stand out under nightclub lights. Neon pink, green, orange, blue and yellow are usually available.
Photo Printing
Got a funny or embarassing pic of the stag? We can print it onto your t-shirts! You can either bring in the photograph for us to scan & print on the shirts, or we can use a digital copy (supplied via email, USB flash drive/memory stick, DVD-ROM, or Bluetooth from your phone.
Left It To The Last Minute?
Don't worry – we've all done it! We can almost always accomodate last minute urgent orders. We can still produce top quality stunning looking t-shirts which you and the lads in your stag group will love. We'll make sure you really look the business for your big night out. Please note you may be restricted by t-shirt and print colour availability if you need your t-shirts the same day.
Need Inspiration?
If you're struggling to come up with an idea for your stag party t-shirts, don't worry. All we really need to know is who's stag night it is, where you're going, and how many t-shirts you need. If you're having individual names on the t-shirts, we'll need a list of what size t-shirt each name is to go on. From this information we can come up with a design, which we'll send you to check before we go ahead and print.
Keeping The Cost Down
If you're on a budget, there are few things you can do to keep the price of your stag do t-shirts down. Stick to a text-only print, on normal t-shirts (black or white preferably), with the print on the front of the t-shirt only. Also avoid neon print colours to get the lowest possible price.
How To Order
Decide roughly what you'd like to have printed on your t-shirts. If you've only got a vague idea, don't worry we can come up with a design based on the info you give us.
Make a list of all the members of the stag group, their t-shirt size, and their names to be printed on the t-shirts (if you're going for this option).
Once you know how many t-shirts you need, please contact us giving us as much information as you can. From this we will work out a competitive price quote.