If you would like a great present for somebody about to turn a certain age Urban Prints have just the T-shirt for you. Our speed limit roadsign T-shirts can be customised so that you can have them anyway you want. Why not personalise the T-shirt by having the birthday boy's or birthday girl's name on the back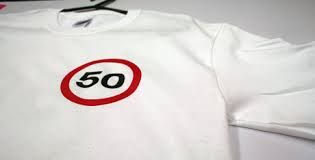 Speed limit T-shirts that have no limit on choice
Don't worry if the person you are buying a T-shirt for is 18, 21, 25, 39 or even 80. We can produce a customised T-shirt with speed limit sign with any number you want. The choice doesn't stop there, you can choose to have pretty much any variation or style of your choice. The roadsign in fluorescent colours looks great. You are only limited by your imagination. Come and see us in our Worcester T-shirt printing shop for more details.
Come up with your own idea and create your own T-shirt
If you have an idea that you think would make a fantastic T-shirt then why not put it to the test with a custom printed celebration T-shirt with Urban Prints. Why not? It could be a nickname, a play on words or even just their name printed in the font of their favourite TV show could make a great gift.
T-shirts for any celebration
We can supply personalised T-shirts for any celebration whether it be a birthday, a christening, a bar mitzvah. Be funny, be bold, be daring. A custom T-shirt can make that special occasion extra special.
Print onto supplied garments or products
If you don't want to settle for a T-shirt, hoody, polo-shirt or cap for a gift then we can print onto your own supplied garment. This means that if you want custom letters or images on a flag, banner or sash or one of many other items we will be able to help.

*Please note that we cannot guarantee the adherence or durability of items that we don't supply.