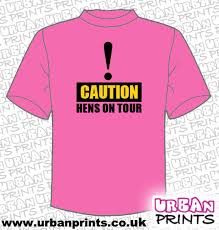 We specialise in creating stunning unique new designs for hen parties. T-shirts are traditionally worn on hen nights to give the group an identity, often with nicknames printed on the back which can be quite sophisticated or utterly shocking, we've seen it all! We know that organising a Hen Night can be pretty chaotic with lots of things to take care of, so we've made it as easy as possible to order your t-shirts.
Hen Night T-Shirt Styles
We offer a variety of t-shirt colours and styles (ladies fitted, vest tops, unisex t-shirts), or you're welcome to bring your own in to be printed (we do of course offer a discount for this service!). We're located in Worcester City Centre, surrounded by plenty of popular clothing stores including H&M, Primark, Top Shop etc all offering fashionable t-shirt styles. All we need is an idea of what you'd like printed, along with a list of sizes and individual names to be printed on the shirts (if that's what you'd like, of course). From this, we can work out the total price.
Vibrant Print Colours
Our most popular print colour for hen night t-shirts Fluorescent Pink, but there are plenty of other colours to choose from if this isn't your thing. Baby pink, purple and  metallic pink are also really popular. From time to time we can get our hands on speciality vinyls with glittery effects – ask us what's in stock at the time of ordering, and you never know we might have something really special and different available.
Examples Of Our Work
The best place to find examples of our work is in the Gallery. Here you will find some ideas to inspire yo and get your creative juices flowing. Don't worry, you don't have to design your t-shirts yourself – that's our job. Just give us an idea (even it's only a vague idea) of what you'd like printed, and leave it to us to create something spectacular. We'll make sure you see a sample before we go ahead and print your hen party t-shirts.
Not Sure What To Have Printed?
If you're completely stuck for an idea of what to have printed on your hen do t-shirts, then don't fret. Perhaps try to think of a theme such as army girls, Charlie's Angels, seventies, or maybe even just a "pink" theme. Then all you need is a slogan for the front of the t-shirts. This can be as simple as the name of the bride-to-be and the place you're going to for your hen night. For example "Katie's Hen Do, Blackpool 2010". We'll design a custom logo just for you, so your t-shirts will look really professional (which of course they will be!). You could also take a look at www.1001freefonts.com for inspiration – it's an excellent website full of fonts, most of which we can print onto t-shirts.
How To Get Started
Decide what you'd like to have printed on the t-shirts. If you're not completely sure, just give us a vague idea and we'll come up with a design for you.
Make a list of who's coming on the big night, their nicknames, and what size t-shirt they need.
Once you know how many t-shirts you need, simply contact us detailing your requirements. We'll then get back to you with a competitive price quote.
Relax knowing your t-shirt order is in the safe hands of the best t-shirt printers in the business!