Sweet shop launch strengthens brand with custom T-shirts
Zendels, Worcester's top sweet shop, recently changed locations and relaunched the brand by hitting the streets armed with trays of their delicious confectionary. Sam decided that she needed to get the name Zendels well and truly in the minds of the Worcester public. Enter Urban Prints custom T-shirt Printing! We produced some vibrant T-shirts for the girls at Zendels to wear featuring their existing branding. The bright pink T-shirts really do shout out "here we are, look at us" and simply look great.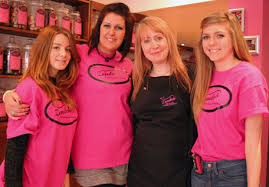 Good Luck to Ye Olde Sweet Shop
At Urban Prints we are proud to have completed this job for Zendels and take pleasure in working with another local business. We wish Zendels every success in their new location. Zendels is an amazing sweet shop, traditional in it's appearance and attitute, run by people with a passion for what they do. It is like stepping back in time to when shops were more than just shops. Try the fudge if you have the chance to pop in, it's absolutely delicious and we highly recommend it.
Branded clothing for your business
If you would like your business to benefit to enhanced branding and awareness of your events, custom printed garments could be the way forward. Branded clothing not only provides an instant credibility for your business, but also is an opportunity to let customers know about your latest offers and specials. Urban Prints custom T-shirt and Hoody Printing offers competitive rates to Worcester businesses whether you order 1 or 1000 items.
The service doesn't stop at T-shirts and Hoodies. We can offer, shirts, flags, aprons and can print onto any garment that you supply. We only use the highest quality clothing so that you benefit from great value and luxurious comfort. Give us a call on 01905 21073 or use the contact form for more details.